On your way to Spokane, plan some time to check out the Wild Horse Wind Farm some 16 miles east of Ellensburg in Central Washington at 25905 Vantage Highway, Ellensburg, WA 98926.
Photo: Judith Herman
Wild Horse Wind Farm is also the Pacific Northwest's largest solar facility. The entire facility is owned and operated by Puget Sound Energy and gets voluntary extra funding from Puget Sound Energy customers.
The facility is both open to tours, weather permitting, and available for recreation use. In the tour, you'll walk the distance of the length of a turbine blade to understand just how huge these wind turbines really are. All guided tours are free.
The recreation facility is open to hunting, hiking, bird watching, horseback riding and other recreational activities by written permission only. Gates along the Beacon Ridge Road are open April 1 to Nov. 30, from two hours before sunrise to two hours after sunset.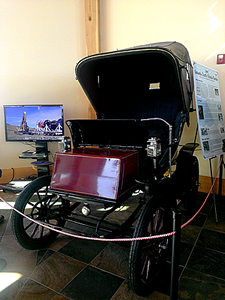 Hike to the top of the 3,500-foot ridge set against the backdrop of the Cascade mountain range to get a close up view of the turbines and the solar facility. You'll also have spectacular views of Mount Rainier, Mount Adams, and Mount Hood. Looking east you'll see the Columbia River Basin.
Photo: Judith Herman
For more information, see the Wild Horse Wind and Solar Facility and Renewable Energy Center website.
by Judith Herman