Cat Tales is located in the suburb of Mead, a short drive from downtown Spokane. And they are definitely worth a visit!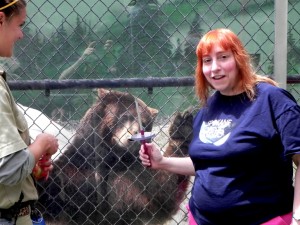 Cat Tales is the home of the Zoological Training Center, which is the only school of this type in North America. Students from all over the world come to Cat Tales to learn the profession of zookeeping.
Cat Tales also works with various wildlife agencies in rescuing and relocating exotic animals, and are the "go-to" facility for sick or injured exotic animals.
Cat Tales Zoological Park has dozens of wild cats, including a lion, tigers, leopards, pumas, and bobcats, plus a couple of black bears. They have many assorted non-feline creatures living at Cat Tales as well. Most of the non-feline animals arrived as "orphans" and were taken in as part of the zoo's rescue program.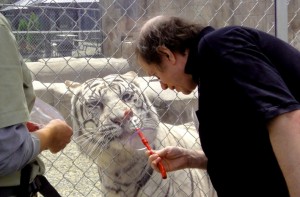 You can hand-feed a Bengal tiger, a Siberian white tiger, or a black bear. You go into a separate enclosure next to the animal habitat with one of the zookeepers. With a wire cage and a layer of plexiglass it is very safe, but you are inches away from these gorgeous, majestic animals. It's a great angle for amazing photos. White tigers have beautiful blue eyes. The animals are well socialized by the zookeepers, so it's even more of a pleasure to interact with them. 
Cat Tales is definitely one of the highlights of a visit to Spokane! You will learn things from being face to face with the great animals that you just can't get from watching them on TV, or at a distance as you might at a zoo.