The second-largest city in Washington State, Spokane is the metropolitan center of the Inland Northwest region which is comprised of eastern Washington and northern Idaho. Spokane is located on the beautiful Spokane River and Spokane Falls, about 100 miles from the US-Canada border, and only 20 miles from the Washington-Idaho border. It is served by Spokane International Airport as well as Amtrak's Empire Builder train.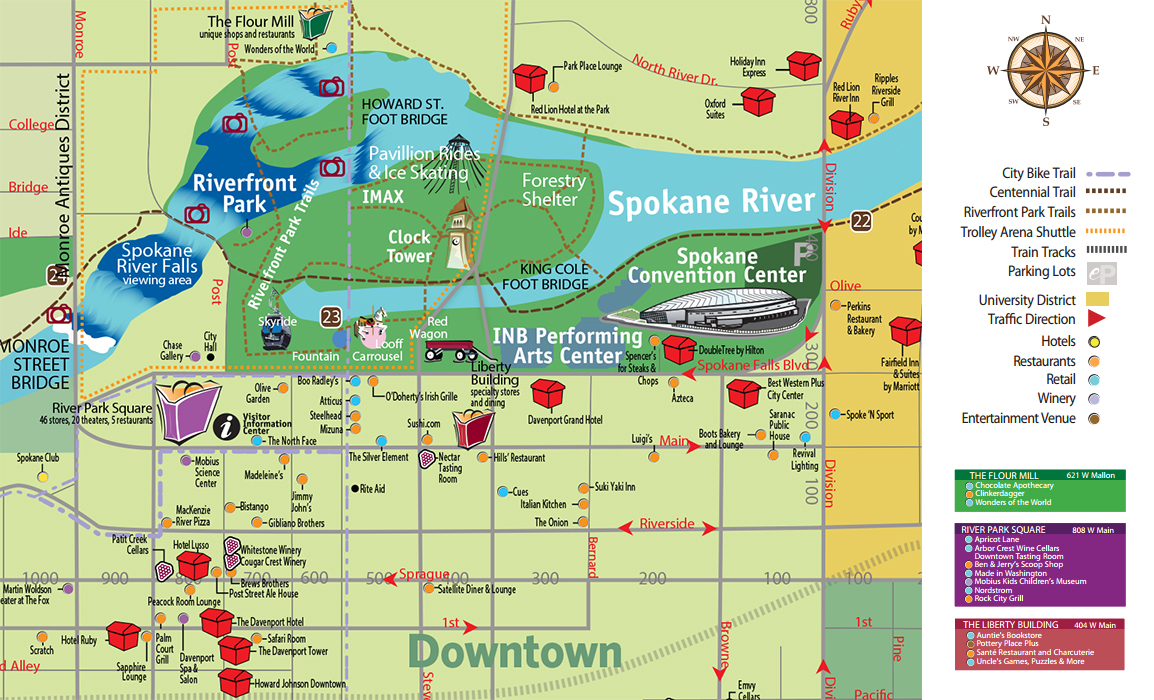 Weather and Smoke
According to weather.com, average daily highs during Sasquan will be in the 80-90 degree range (Fahrenheit), with evening lows dropping into the 50s at night. There is a slight possibility of rain Friday.
This is fire season in the Western US, and there are a number of fires burning in Washington. The Washington Smoke Information website posts smoke, fire and air quality information for Spokane and elsewhere in Washington.
History
Spokane is named for the Spokane Indian tribe. At the beginning of the 19th century the region became a fur-trading hub. When gold and silver were discovered in the Inland Northwest, Spokane quickly became a mining center. Later it became a center for timber, agriculture, and more recently, technology. In 1974 Spokane hosted the first environmentally themed World's Fair.
Little-known fact: Spokane is the birthplace of Father's Day!
Spokane in books and film
Maybe you'd like to meet Spokane first via books or film? There are many books set in Spokane, including several speculative fiction books. Here are some you can check out at your favorite bookstore, library, or review site.
Books
Vampire Academy series by Richelle Mead
Mercy Thompson series by Patricia Briggs
Dream Weaver series by Su Williams
The October Light of August by Robert John Jenson
The Bigfoot Mysteries series by Polenth Blake
Spokane has also provided the setting or filming location for a number of TV shows and films. Here are some of them.
TV
Dog Bites Man, Comedy Central, 2006
Z Nation, SYFY, 2014
Film
Red Dawn, 2012, action/sci-fi/thriller
Knights of Badassdom, 2013, action/comedy/fantasy/horror
At Middleton, 2013, comedy/romance
Benny & Joon, 1993, comedy/drama/romance (301 North Cedar Street)
Vision Quest, 1985, drama/romance/sport (Monroe Bridge)
The Big Bang, 2011, action/mystery/thriller
Wrong Turn at Tahoe, action/crime/thriller, 2009
End Game, 2006, action/crime/mystery/thriller (Gonzaga University)
Finding Bliss, 2009, comedy/romance
Norman, 2010, comedy/drama
Mozart and the Whale, 2005, comedy/romance/drama (Gonzaga University)
Falling Up, 2009, comedy/romance/drama
The River Murders, 2011, thriller
Give 'em Hell Malone, 2009, action/crime/thriller
The Cutter, 2005, action/drama/thriller (Gonzaga University)
Lies & Illusions, 2009, action/comedy/thriller
Dog Gone, 2008, comedy/family/fantasy
Frank, 2007, family
28 Hours Later: The Zombie Movie, 2010, action/comedy/horror
Different Drummers, 2013, drama/family
Whacked!, 2002, action/comedy
Z HUNTERS: Bring on the DEAD!, 2012, comedy/horror
The Great Big Huge Guy, 2014, short/sci-fi
For more information
Travel
Restaurants
Restaurants near the Sasquan convention center and hotels
Attractions
Spokane offers a wide variety of attractions starting with Riverfront Park, a 100 acre urban park adjacent to the convention center. It features a historic carousel, the SkyRide over Spokane Falls, miniature golf, food, rides, walking paths, a garbage-eating goat, and more. There are many other things to see and do in and around Spokane. Our Attractions page lists some more of them.
Spokane Websites
City of Spokane – The city website includes information about art & entertainment, parks & gardens, and recreation plus news about local happenings.
Visit Spokane – In addition to online information about food and things to do, this site offers a free Visitor Packet and an Events Calendar of activities in Spokane by date.