The festival's motto is "A showcase for film makers to share their works and for people to experience".
Sasquan is excited to host the Sasquan International Film Festival!
The Sasquan International Film Festival will showcase the best film shorts, and features from around the world, specializing in the science fiction, fantasy, horror, animation and comic genres. We have worked hard to assemble the best and the strangest films to showcase at our festival.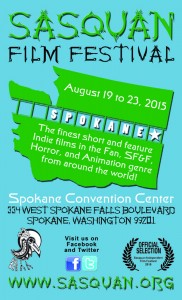 Our complete list of films submitted is organized by film name, with the director, running time, a brief description, and the film's website.
The Sasquan Film Festival Schedule lists showings by date and time, including type, country of origin, maturity rating, and a short synopsis. Films will be screened in Convention Center Room 205.
Sasquan Laurel and Poster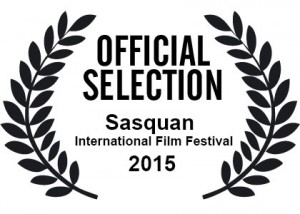 Film makers with accepted entries can download the laurel and place it on their websites and other publicity materials to promote both the Sasquan International Film Festival and their film, once they have been selected for presentation at the convention.
Queries
For more information or any questions about the Film Festival please email Nat Saenz, Sasquan International Film Festival.