---
Brad Foster
Brad W Foster is an illustrator, cartoonist, writer, publisher, and whatever other labels he can use to get through the door. He's won the Fan Artist Hugo a few times, picked up a Chesley, plus both a Rotsler and Rebel award, so clearly someone out there has noticed his drawings now and then!
His strange drawings, cartoons and illustrations have appeared in over a thousand science fiction fanzines, as well as a host of other sub-genre and odd-sideshoot publications over the years. On a professional level he has worked as an illustrator for various genre magazines, the better known among those being "Amazing Stories" and "Dragon". In comics he had his own series some years back, "The Mechthings", and even got to play with the big boys for a few years as the official "Big Background Artist" of Image Comic's "Shadowhawk".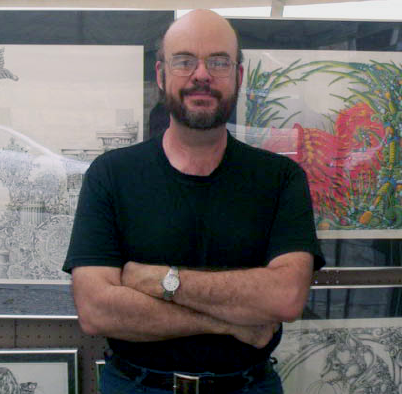 He has also dipped his toe into the world of video games, doing all the design work for the "Butt Vader" game app. (Be sure to ask him about that, just to see how he tries to side-step around what the game is actually about!)
Outside our beloved genre it is possible you've seen more of his work in titles as varied as "Cat Fancy" "Cavalier", or "Highlights for Children". Most recently he has been doing covers for small publishers such as Yard Dog Press, Dark Star, Wire Rim Books, and Zumaya Press. Also, illustrations for magazines such as Space & Time, Talebones and Leading Edge, and has even managed to work a dragon into the official poster for the Oktoberfest in Tulsa, Oklahoma!
He has turned a bit of self-publishing started about thirty years ago into the Jabberwocky Graphix publishing empire. (Total number of "employees: himself and his wife Cindy.) Aside from his own comics and art prints, he has been proud to have published the work of over 300 artists from around the world. Much of his time these days is spent showing and selling his works at various art festivals around the country, bringing a little taste of the wonderfully weird world of sf and fantasy to the masses, whether they are ready for it or not!
https://en.wikipedia.org/wiki/Brad_Foster
---
David Gerrold
David Gerrold has been writing professionally since 1967, and many of his books and television scripts are now considered classics.
An alumnus of CSUN's Theatre Arts Dept., he sold his first script to Star Trek even before he graduated. He has also written episodes of Star Trek Animated, Land Of The Lost, Twilight Zone, Tales From the Dark Side, Babylon 5, Sliders and other hit TV series.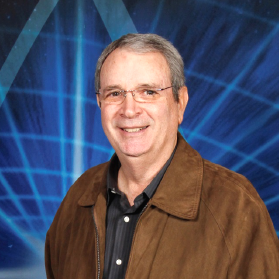 Between TV assignments, he wrote three books on writing and forty novels, including the Hugo and Nebula nominees When HARLIE Was One and The Man Who Folded Himself. His autobiographical tale of his son's adoption, The Martian Child won both of those awards and was the basis for a 2007 film, starring John Cusack and Amanda Peet.
His television scripts have been seen by more than a billion people. He's written more than 50 books and has been translated into 20 different languages. A prolific author, he's also written hundreds of stories, columns, and articles as well as teaching script writing at Pepperdine University for nearly twenty years. He has traveled all over the world, speaking his vision of a future that works for everyone.
Gerrold's most popular series is The War Against The Chtorr. Four novels have been published in this septology: A Matter For Men, A Day For Damnation, A Rage For Revenge, and A Season For Slaughter. Book five, A Method For Madness is scheduled for completion in 2013 and publication in 2014.
David Gerrold here on Many Generations, All Fandom
https://en.wikipedia.org/wiki/David_Gerrold
---
Vonda N. McIntyre
Vonda N. McIntyre does not remember learning to read, but the first thing she remembers reading is an SF novel.
She sold her first science fiction short story when she was twenty. Several more story sales followed, and the next year she attended the Clarion Writers Workshop at Clarion State College in Clarion, Pennsylvania, where her classmates included Octavia E. Butler and George Alec Effinger.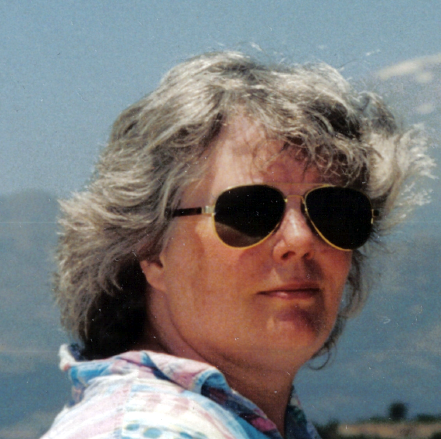 After spending eighteen months in graduate school in genetics, she realized that as a research scientist she made a very good sf writer. She spent the next several years living four miles down a logging road, where she finished her first novel, The Exile Waiting, and wrote much of Dreamsnake.
During the summers of 1971, 1972, and 1973, she organized the Clarion West Writers Workshop. During the 1972 workshop, in response to a writing exercise set by Avram Davidson, she wrote "Of Mist, and Grass, and Sand." One of her classmates responded by saying, "How dare you write a story that makes me feel sorry for a snake!" Analog Science Fiction and Fact published the story; it was nominated for the Hugo Award and won SFWA's Nebula Award.
"Of Mist, and Grass, and Sand" became the first chapter of Dreamsnake, which won the Hugo, the Nebula, the Locus, and the Pacific Northwest Booksellers Awards.
When the editor of the Pocket Books line of Star Trek novels discovered that she was a big fan of the original series, he invited her to write an original Star Trek novel. His reaction after reading The Entropy Effect was that Paramount would either love it or hate it. They loved it, so she also wrote Enterprise (the 20th anniversary Star Trek novel) and the novel versions of the Star Trek II, III, and IV movies.
Other interests over the years have included showing hunters and jumpers, three-phase events, Aikido (she is a shodan), and various handcrafts; her work has been included in The Institute for Figuring's Hyperbolic Crochet Coral Reef and in Science News Online.
She is a founding member of Book View Café Publishing Cooperative, which publishes her backlist in ebook form.
She has made her living as an sf writer for her entire adult life. Her other novels include The Starfarers Quartet (Starfarers, Transition, Metaphase, Nautilus), and The Moon and the Sun, which won the Nebula Award.
She is honored to be one of the Guests of Honor at the 2015 Worldcon, a href="http://sasquan.org/">Sasquan, in Spokane, Washington.
The movie version of The Moon and the Sun is set to begin filming in Australia and France in early 2014, by Pandemonium Films. Starfarers, "the best sf miniseries never made," has still never been made.
Vonda N. McIntyre's website
Vonda N. McIntyre on Wikipedia
---
Tom Smith
Tom Smith is a singer-songwriter from Ann Arbor, Michigan, who got his start in the filk music community. He is a fourteen-time winner of the Pegasus Award for excellence in filking, including awards for his "A Boy and His Frog", "307 Ale", and "The Return of the King (Uh-huh)", and was inducted into the Filk Hall of Fame in 2005.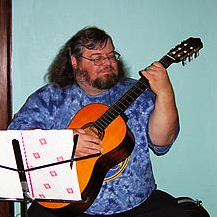 Smith has written songs in many musical moods and styles, from dramatic to silly to romantic, and from operatic to hip-hop to Klezmer. In performance, he tends towards comedy folk-rock, usually with many references to films, literature, popular culture and politics, frequently using puns.
His nickname, "The World's Fastest Filker", comes from numerous instances of "instafilk", i.e., quickly-written or improvised songs. He has improvised entire concert sets, and his album Badgers and Gophers and Squirrels Oh My: The 24-Hour Project, inspired by Scott McCloud's 24-Hour Comics Day, features seventeen songs written in twenty-four hours. In May 2006, he released the album The Last Hero On Earth, a comic opera which has twenty songs, all written in one day, to the same plot.
In August 2006, emulating Jonathan Coulton's Thing A Week, he began iTom, a project where he released a new song every week for a year, and continued sporadically after that. So far, he has collected four albums of those songs.
He has parodied Christine Lavin songs with her blessing. He authored the official song for Talk Like a Pirate Day. He wrote "Enterprising Man" for the animated parody video Babylon Park: Grudgematch, as well as the official Transylvania Polygnostic University theme song for the comic Girl Genius by Studio Foglio. His song "Rock Me Amidala" was used in the independent movie Saving Star Wars.
Smith performs frequently at conventions across the United States, and has also performed in Canada and England. He has been featured frequently on Dr. Demento, Public Radio International's Sound & Spirit, and other radio programs. In 2007, he joined with comedy musicians such as Rob Balder, The Great Luke Ski, Sudden Death, Worm Quartet, and others in The FuMP (The Funny Music Project). Smith has appeared in concert with Dr. Demento and on the same bill as Chick Corea.
In 2005, "A Boy and his Frog" was the subject of a mini-arc in the Something Positive webcomic.
On June 7, 2008, Smith tore his quadriceps while attempting to take the stage at a Christine Lavin concert, landing him in the hospital and preventing him from performing for the next few months.
https://en.wikipedia.org/wiki/Tom_Smith_(filker)
---
Leslie Turek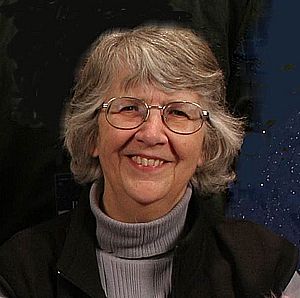 Photo: Crystal Huff
Leslie Turek is a gardener. Her approach to most things, including fandom, is that of a gardener—a calm, unhurried cultivation that gradually shapes and directs rather than forces. This approach emphasizes common sense, and a calm and rational look at problems. Without giving up her own point of view, she tries to understand and explain the other person's view and the other side of an issue.
She entered fandom through the MIT Science Fiction Society (she was a student at Radcliffe, but co-edited MITSFS's fanzine The Twilight Zine) in the early 60s. She was a founding member of NESFA (the New England Science Fiction Association), worked on and chaired Boskones, and typed the first issue of Locus. She was part of the Noreascon committee that ran the 1971 Worldcon, and subsequently edited and published the Noreascon Proceedings.
She was then drafted to be Chairman of Noreascon 2 (1980). After that, she kept making major contributions. For N3 (1989), she developed the Smofcon Game, and was one of the major creators and designers of the ConCourse, but perhaps her greatest contribution was the Hugo-winning fanzine Mad 3 Party.  For N4, Leslie coordinated "First Night", an extravagant Thursday night ice-breaker for the convention ahead.
Although she keeps claiming to she¹s going to quit, she hasn¹t done so yet!
Mark & Priscilla Olson
http://fancyclopedia.org/leslie-turek
---
Special Guest
Kjell Lindgren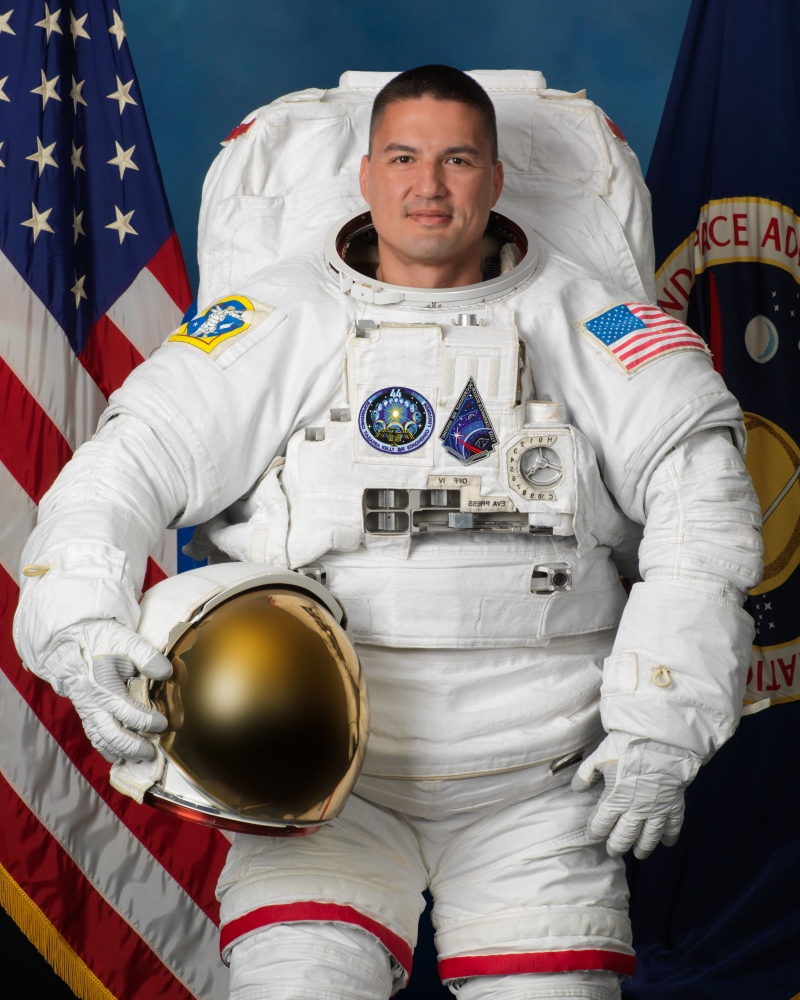 Sasquan is proud to announce NASA Astronaut Dr. Kjell Lindgren as a Special Guest! Dr. Lindgren will be participating simultaneously in Sasquan and as a Flight Engineer on the International Space Station Expedition 44 and 45. For the first time in Worldcon history, we will be in real-time communication with a member of our community – out of this world!
Dr. Kjell Lindgren was born in Taiwan, went to school in England and Virginia, and currently calls Texas home. He is a family man, enjoying board games, video games, and Tae Kwon Do with his kids. He has a lifelong interest in science fiction and fantasy; his list of favorite authors includes Orson Scott Card, Tom Clancy, Arthur C. Clarke, Ernest Cline, Joe Haldeman, Robert Heinlein, Stephen King, George R. R. Martin, C. S. Lewis, Patrick Rothfuss, Brandon Sanderson, Neal Stephenson, Kim Stanley Robinson, J. R. R. Tolkien, Vernor Vinge, Bill Watterson, and Connie Willis. He says, "My path to space has been paved with books," and for him a book appears on the mission patch for ISS Expedition 45. He has a particular interest in reading and education, hoping to share and broaden the path that led him into space with today's students and tomorrow's spacefarers.
Dr. Lindgren is a board-certified practitioner of emergency medicine and aerospace medicine. He has a Bachelor of Science in Biology from the United States Air Force Academy, a Master's degree in Cardiovascular Physiology, a Doctorate of Medicine from the University of Colorado.  He completed a three-year residency in emergency medicine, including a year as chief resident, at the Hennepin County Medical Center in Minneapolis, and completed a National Library of Medicine Post-Doctoral Fellowship and Master of Health Informatics at the University of Minnesota, as well as a two-year residency in Space Medicine and Master of Public Health at the University of Texas Medical Branch in Galveston.  He served as a deputy crew surgeon for STS-130 and ISS Expedition 24 and was selected for the astronaut training program in 2009. He was CAPCOM (spacecraft communicator) for ISS-30 in 2011-2012.
During his expedition, Dr. Lindgren will work on a variety of experiments involving crystal growth, zero-g combustion and robotics. His research will also look at how the human body is affected by the rigors of spaceflight, specifically, the aging process, muscle wasting, bone loss, radiation exposure, and long-term isolation. Dr. Lindgren will be aboard the International Space Station during the 2015 Worldcon and his convention participation will be through remote communication.