The Spokane Convention Center is in the center of the city of Spokane, adjacent to the Centennial Trail, the Spokane River, and Riverfront Park, which was the site of the 1974 World's Fair. It has four buildings, the Riverside Exhibit Hall, the Doubletree Hotel, the Conference Building, and the INB Performing Arts Center, as well as some outdoor function areas.
Download Spokane Convention Center Map
Interactive Map
Wi-Fi
There is wireless Internet available in all locations.
Bag Check Room
Location: Room 402C
Cost: $2 Cash per day with bag visitation privileges
Hours:
Weds noon – 8 p.m.
Thurs-Sat 9:30 am – 8 p.m.
Sun 9:30 am – 5 p.m.
Must take bag out by closing time each day.
Convention takes no liability for theft or damage.
Food
Food service will be available in the convention center. Additional information about food available in the convention center and nearby is shown on our Restaurants page.
INB Performing Arts Center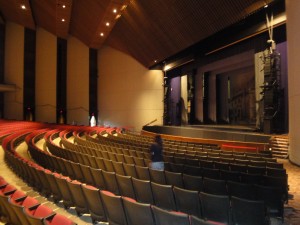 Sasquan's Masquerade and Hugo and John W. Campbell Awards ceremony will be held in the convention center's Performing Arts Center, a 2700-seat theater most often used as a venue for touring Broadway musicals and plays. With tiered seating and balconies, every seat has a good view of the stage. There is plenty of room for wheelchairs on the main floor, and the Performing Arts Center has great acoustics, so all attendees will be able to see and hear everything on the stage.
Conference Building
Most convention programming will be held in the central building function rooms. This building also features a rooftop patio with a tent ceiling, misters for heat and a panoramic view of the river and the park, with the city in the distance east and west.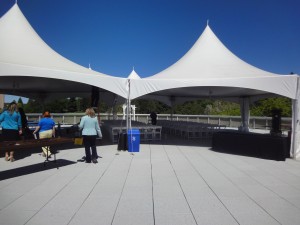 Doubletree Hotel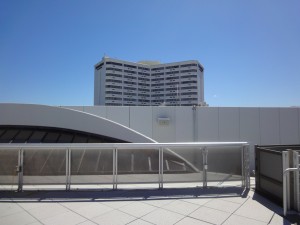 The Doubletree by Hilton Hotel is between the conference building and exhibit hall, connected to each by an inside walkway. It has an additional 21,000 square feet of function space, plus suites. The Consuite, Child Care, and some late-night programming activities will be in the Doubletree.
Exhibit Hall
In the Riverside Exhibit Hall you will find fan tables, site selection, concourse, dealers room and the art show as well as food service.