General – Staff – Mobility – Visual – Auditory – Quiet Room – Convention Center – Hotels

General Questions
Mobility Accommodations
Sasquan has contracted to obtain mobility scooters and power wheelchairs at a group rate and will make them available to members at our cost. See the Renting Mobility Aids page for rates. Advanced reservations closed on August 4th.

Visual Accommodations
Sasquan will offer both the Souvenir Book and the Convention Guide (aka Pocket Program) in a digital format with completely adjustable font size that is also compatible with Braille readers and text-to-audio screen readers. The digital Souvenir Book will include appropriate ALT-tags. Detailed program information will also be available via interactive apps that can be downloaded from Apple or Android stores or directly from the Sasquan website. These apps have been checked for accessibility (the only images/icons are pictures of the program participants) and can be used either on- or off-line. Note that in order to access the schedule at the con you will need a computer or suitable mobile device with you or will need to print it out in advance. If this will be a problem, please let us know. There should be no difficulty connecting to the internet for on-line use and updates since the Spokane Convention Center offers free wi-fi throughout.

Auditory Accommodations
As mentioned below, the Convention Center offers assisted listening systems. More information will be available at the Access Table, which will be located near Registration. We are pleased to announce that Sasquan will have real-time captioning (CART) for the following major events:

Masquerade
Hugo Awards Ceremony
WSFS Business Meeting
Quiet Room
People sometimes need a break from the bustle of noise of a Worldcon. To provide that break, Sasquan has established a Quiet Room (Convention Center 101). Relax and unwind in a comfy chair. But please be respectful of your fellow members. Anything you wouldn't do in a library, don't do here.

Convention Center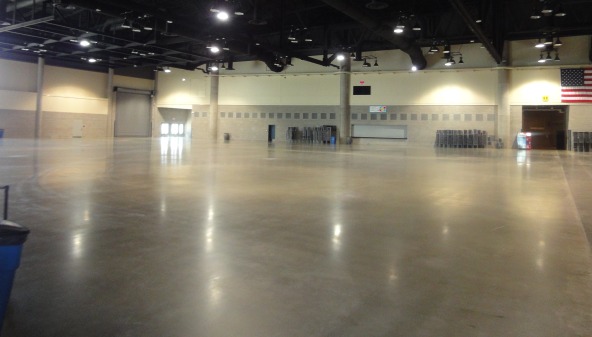 The Spokane Convention Center is a new and fully accessible facility in the center of downtown Spokane. The Riverside Exhibit Hall was completed in 2006, in time for the US National Figure Skating Championship in 2007, and the main convention center building was also completely rebuilt in 2007. While much of the site is at ground level, recent renovations have added new space on different levels. The exhibit halls, the main floor of the convention center (all rooms in the 100s and Second Stage), and the main level of the INB Performing Arts Center (Hugos, Masquerade) are all accessible from the sidewalk. Rooms in the 200s, which will be used for Kids Programming, Workshops, Videos and Audio Program, are accessible from a main staircase in the ballroom lobby. While most attendees going to the second floor should plan to use the stairs, there are two elevators in the function space area, one of which is eight feet wide (easily enough room for two scooters or a dozen people, and rated to 2500 lbs.). Rooms numbered in the 300s and 400s, which will be used for Program, are new and are accessible from the ground level via escalators or elevators. The Performing Arts Center has an elevator going up to balcony levels, though there is plenty of accessible seating and wheelchair areas on the main level.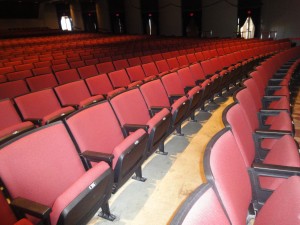 (This is a Broadway-show quality theater with raised seating and regular seating rows wide enough for attendees using canes or, near the aisle, walkers.) The exhibit hall loading area includes truck-level loading platforms and ramps for small carts, serving the needs of big and small dealers.
The Spokane Convention Center and Spokane Arena hosted the 29th National Veterans' Wheelchair Games in 2009, with over 500 athletes participating, plus coaches, families, friends, and fans, and was a great event for everyone in attendance. This was the largest of these games held to that date.
The Spokane CVB offers this statement: "The Spokane Convention Center offers many features that make our facility friendly to our guests with disabilities. These features include accessible parking, automatic entrance doors, wheelchair accessible elevators, accessible restrooms, and assisted listening systems. The Spokane Convention Center is responsible for the permanent building ADA access requirements, such as, but not limited to, wheelchair access, elevator standards, restroom standards, and internal hallways and doors. The Licensee is responsible for the non-permanent accessibility requirement, such as, but not limited to, seating accessibility, assistive listening devices, sign language interpreters, and other auxiliary aids. The Spokane Convention Center has wheelchairs, a wheelchair lift, and assistive listening devices available."

Hotels
Most of the hotels near the convention site have been built or extensively renovated this century are are compliant with ADA standards. We will have more specific information on individual properties in 2014.