General Information
The Worldcon started around noon on Wednesday, August 19 and ended around 4PM on Sunday, August 23. There was a Dead Dog party and evening filk Sunday evening. The full Sasquan schedule was online on July 31.
Sasquan Program included:
Many items featuring our Guests of Honor
A variety of Discworld items
Strong focus on science items, particularly on SuperScienceSaturday
A range of items to celebrate the history of science fiction literature, media and fandom
Workshops, including Writers Workshops
SpoCon Presents – Items to introduce you to the Spokane region and its local con SpoCon
Children's Program during the day and Friday and Saturday evening for kids with memberships from 6-12
Many opportunities for Meetups
The creator of Stroll with the Stars, Stu Segal, is running the stroll for Sasquan.
Check our Participants page to see who was on panels or events at Sasquan and our Schedule page to get a taste of what happened at Sasquan.

Statistics
Panelists/guests – 486 (including one virtual attendee, @Astro_Kjell)
Autographers – 23
Panels – 241
Presentations – 33
Readings – 166
Kaffee Klatches – 100
Kids Items – 78
SpoCon Presents – 48
Meetups – 41
Costume/Art/Maker Workshops – 38
Concerts/Filk – 36
Writers Workshops – 20

Literary Beers – 20
Docent – 12
Strolls – 4
Blood Drive
Sasquan revived the tradition started by Robert Heinlein – a convention blood drive. The Inland Northwest Blood Center bus was be parked outside the front doors of the Convention Center from 10:30 am – 3:15 pm on Wednesday, August 19. The first drive went so well, they returned on Friday. In total, they collected 67 pints of blood from Sasquan attendees – THANKS!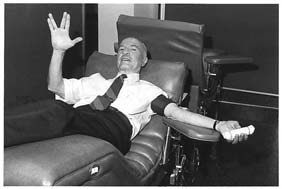 Robert A. Heinlein donating blood in the late '60s or early '70s.
Late Night Program
While we needed to be out of the Convention Center by midnight, there were some function rooms on the first floor of the Doubletree Hotel that were open all night. Rooms for Video, Gaming and Filking were open overnight in the Doubletree.
SpoCon Presents
SpoCon is Spokane's local premier Science Fiction and Fantasy convention. It has run annually in Spokane since 2008, and is only getting bigger and better with every year. SpoCon has hosted such illustrious special guests as C.J. Cherryh, Rayce Bird, George Troester, and Brandon Sanderson, and we're far from finished! In 2015, SpoCon partnered with Worldcon to welcome them to the Inland Northwest with open arms and meld our fandom with theirs, as it is meant to be. We are literature. We are gaming. We are fandom. We are SpoCon. Join us at Sasquan, and in Spokane 2016, as we continue the tradition of greatness that is the fandom of the Inland Northwest. Find SpoCon Presents in Doubletree Grand Ballroom Salons III & IV.
Award Presentations
In addition to the Hugo Awards (to be awarded Saturday, 8pm, INB Theater (video feeds to 100B & Guinan's during the event, as well as to Ustream)), other SF-related awards were given out at Worldcon:
Chesley Awards, for art, Thursday, 7pm, 300D
Prometheus, for Libertarian-related fiction, Friday, 1pm, 300D
Golden Ducks, for children's literature, Friday, 4pm, 207
Seiuns, for literature translated to Japanese, Saturday, 5pm, 300B
SuperScienceSaturday, for best science poster, Saturday, 5pm, Cabaret
The Sidewise Awards, for alternate history fiction, will not be given out at Worldcon this year (one of the organizers had to have surgery and we wish him the best of luck). The winners for 2014 are Ken Liu ("The Long Haul") and Kristine Kathryn Rusch (The Enemy Within).

Spokane Convention Center
The Spokane Convention Center sits along the banks of the Spokane River and affords users beautiful views of the 100-acre Riverfront Park and direct access to the Centennial Trail.  The Convention Center is directly connected to the Doubletree Hotel and is connected to the brand new Grand Hotel by an enclosed walkway with floor-to-ceiling windows.
The INB Performing Arts Center is a 2700-seat theater, home of the Masquerade and the Hugo Awards Ceremony, and it's at one end of the Convention Center. A breezeway to the park and the river separates the INB theater and the rest of the Convention Center.
Worldcons can do better in making their program areas more accessible to everyone. The convention is working on ways to improve accessibility such as scheduling in additional passage time between items (15 minutes between items instead of 5-10) and clearly labeling the elevators. Program will work closely with our Accessibly staff to identify and resolve potential access issues before the convention. We are sensitive to the needs of our members and panelists and want to assist them in having the most enjoyable experience.
The Convention Center has a centrally-located convenience store (near the Bays 111 rooms) and a snack bar in Hall D. There will be a coffee bar/snack bar up in on the second floor near the Kaffee Klatch rooms (202) and the film festival/audio rooms. Sasquan will be running a bar in Guinan's Place in Hall C.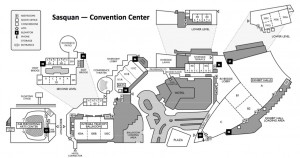 We have all the first floor function space in the adjacent Doubletree, which will be home for the overnight items, such as filking, anime and board gaming.  The Con Suite will also be in the Doubletree.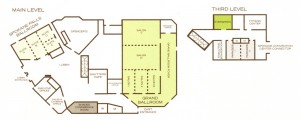 Participate in a Research Study: Why Do You Go to Worldcon?
The following brief survey was designed to explore the reasons individuals participate in WorldCon. The on-line survey is anonymous and was designed to be appropriate for all adult participants. Results will be made available to WorldCon and participants are welcome to contact J. Zwahr-Castro with questions.
http://stmarys.az1.qualtrics.com/SE/?SID=SV_0v9q2kadgfZm1z7